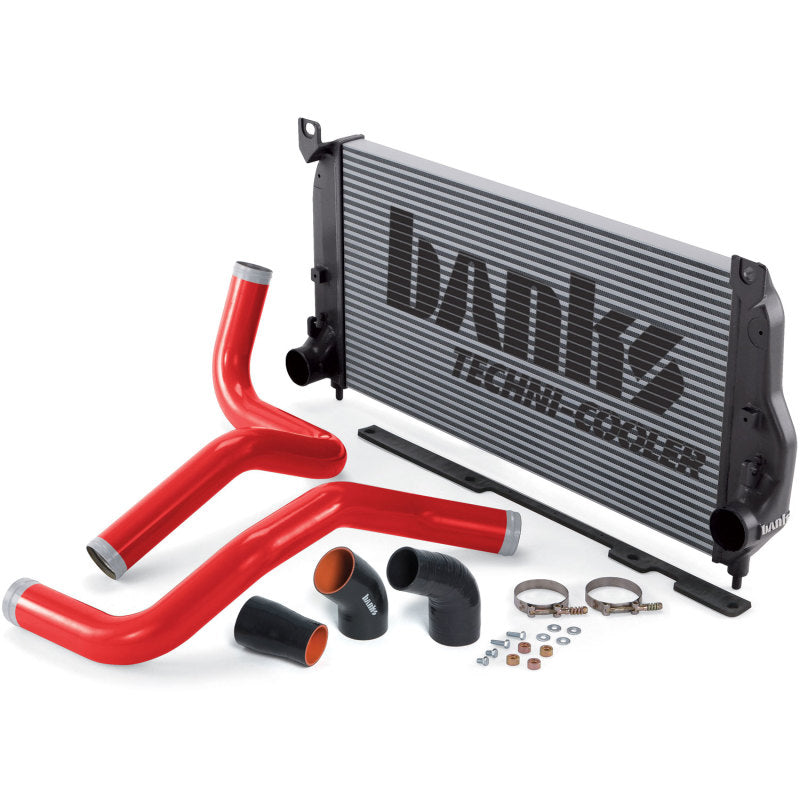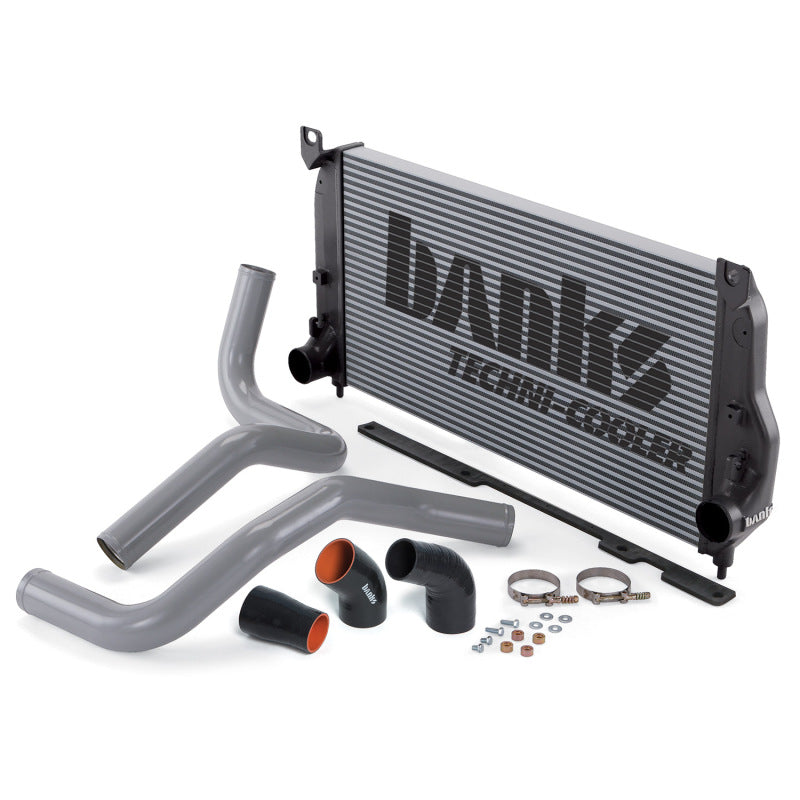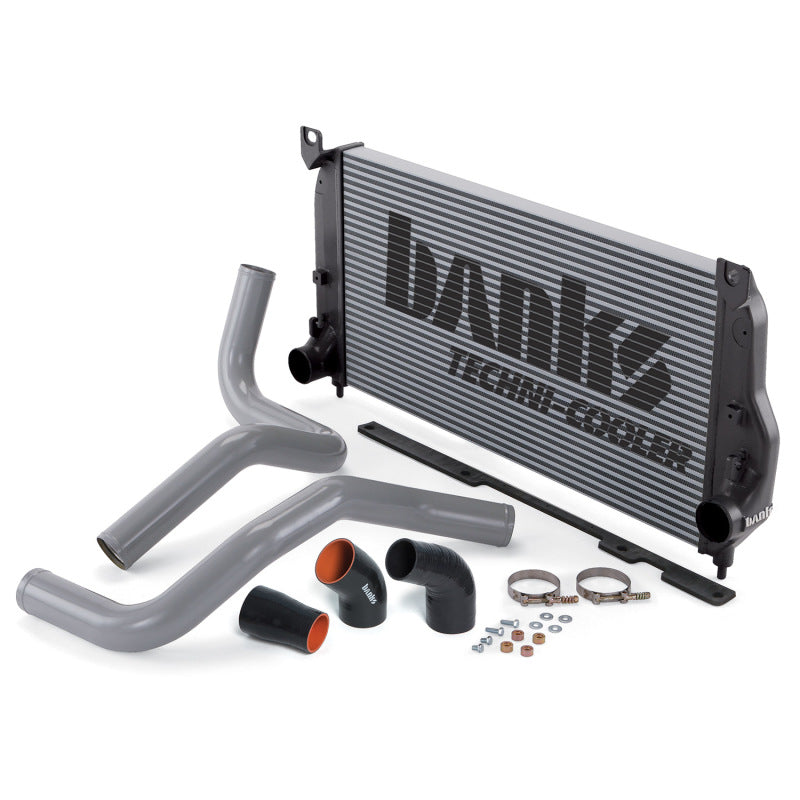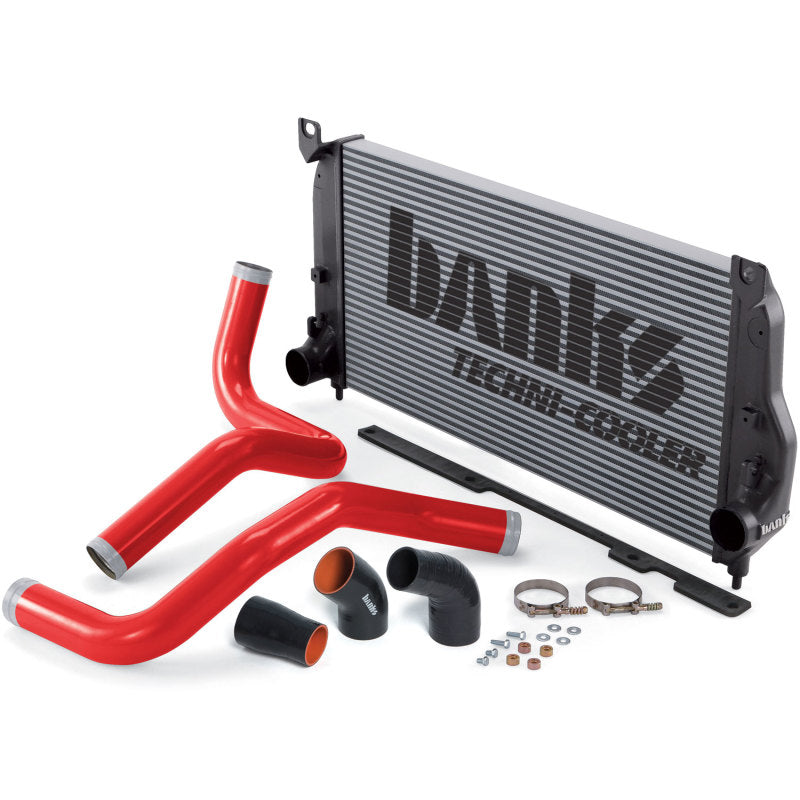 Banks Power 04-05 Chevy 6.6L LLY Techni-Cooler System
Optimizes the boosted air density for higher continuous power and...
Optimizes the boosted air density for higher continuous power and lower exhaust gas temps. Move over, pipsqueak. The stock intercooler has an inferiority complex. No wonder - it's smaller than Techni-Cooler in every aspect: boost tubes core area inlet/outlet even the end tanks. And most competitors use poorly designed sheet metal end tanks and provide inadequate flow volume. Banks cranks up the volume. Banks improves airflow into and out of the intercooler with big mandrel-bent 3 inch boost tubes. Large, rugged, high-efficiency cast end tanks that won't rupture under high-boost conditions. A huge inlet and outlet. And a 25% larger core area with a whopping 34% improvement in volume. The king of cool. Removing restrictions and improving airflow lowers boost air temps. This increases the density and oxygen content of air entering the engine, which amplifies power, lowers exhaust gas temps (EGTs) and improves fuel economy. And when EGTs are tamed, the tuner doesn't need to limit fuel delivery. So you get higher continuous, usable power and more power at any EGT. Very cool! Everything about Techni-Cooler is bigger, including the core area, which has 34% more flow volume. Increases air density for more continuous power. It doesn't get any cooler than Techni-Cooler .
This Part Fits:
| Year | Make | Model | Submodel |
| --- | --- | --- | --- |
| 2004 | Chevrolet | Silverado 2500 | Base |
| 2004 | Chevrolet | Silverado 2500 | LS |
| 2004 | Chevrolet | Silverado 2500 | LT |
| 2004 | Chevrolet | Silverado 2500 | WT |
| 2004-2005 | Chevrolet | Silverado 2500 HD | Base |
| 2004-2005 | Chevrolet | Silverado 2500 HD | LS |
| 2004-2005 | Chevrolet | Silverado 2500 HD | LT |
| 2004-2005 | Chevrolet | Silverado 2500 HD | WT |
| 2004-2005 | Chevrolet | Silverado 3500 | Base |
| 2004-2005 | Chevrolet | Silverado 3500 | LS |
| 2004-2005 | Chevrolet | Silverado 3500 | LT |
| 2004 | Chevrolet | Silverado 3500 | WT |
| 2004 | GMC | Sierra 2500 | Base |
| 2004 | GMC | Sierra 2500 | SLE |
| 2004 | GMC | Sierra 2500 | SLT |
| 2004 | GMC | Sierra 2500 | WT |
| 2004-2005 | GMC | Sierra 2500 HD | Base |
| 2004-2005 | GMC | Sierra 2500 HD | SLE |
| 2004-2005 | GMC | Sierra 2500 HD | SLT |
| 2004-2005 | GMC | Sierra 2500 HD | WT |
| 2004-2005 | GMC | Sierra 3500 | Base |
| 2004-2005 | GMC | Sierra 3500 | SLE |
| 2004-2005 | GMC | Sierra 3500 | SLT |
| 2004-2005 | GMC | Sierra 3500 | WT |