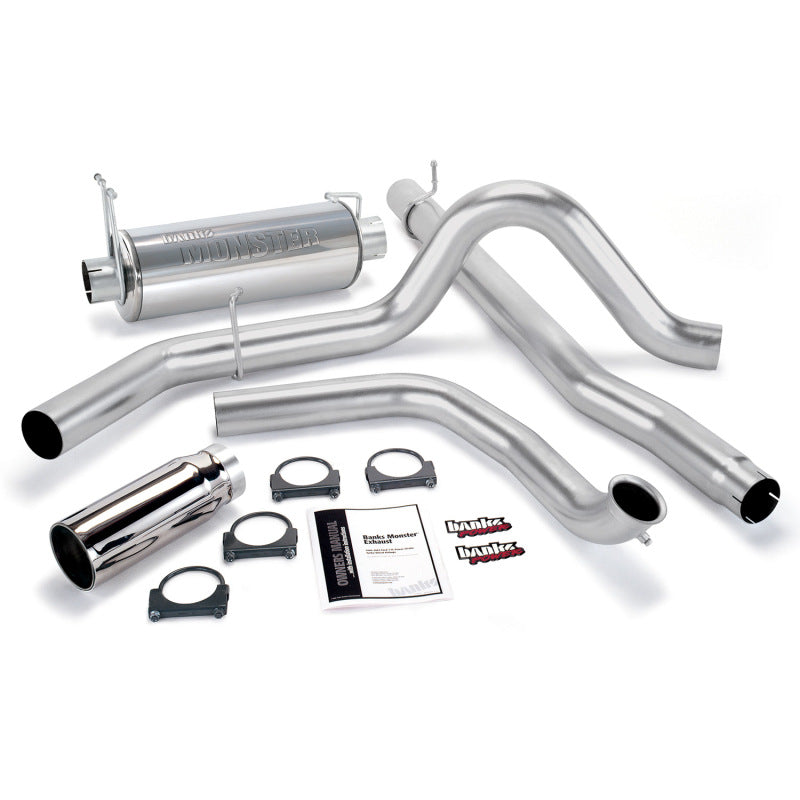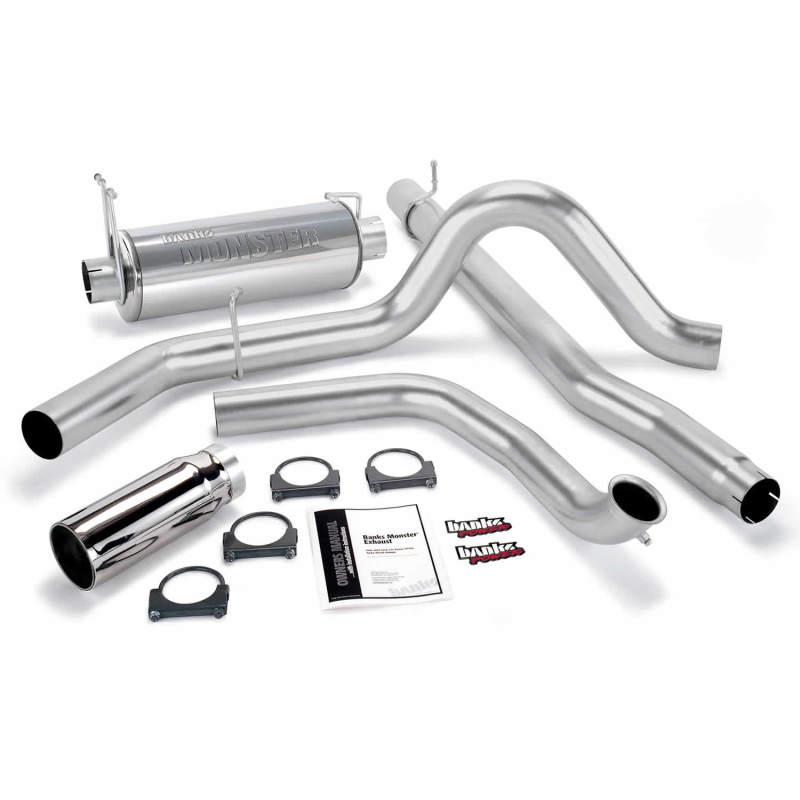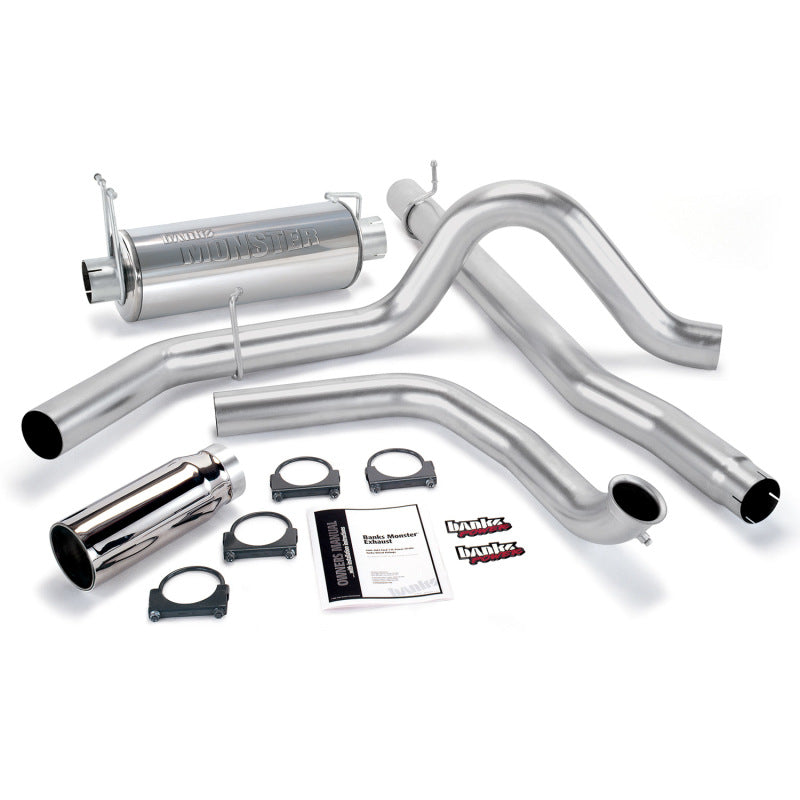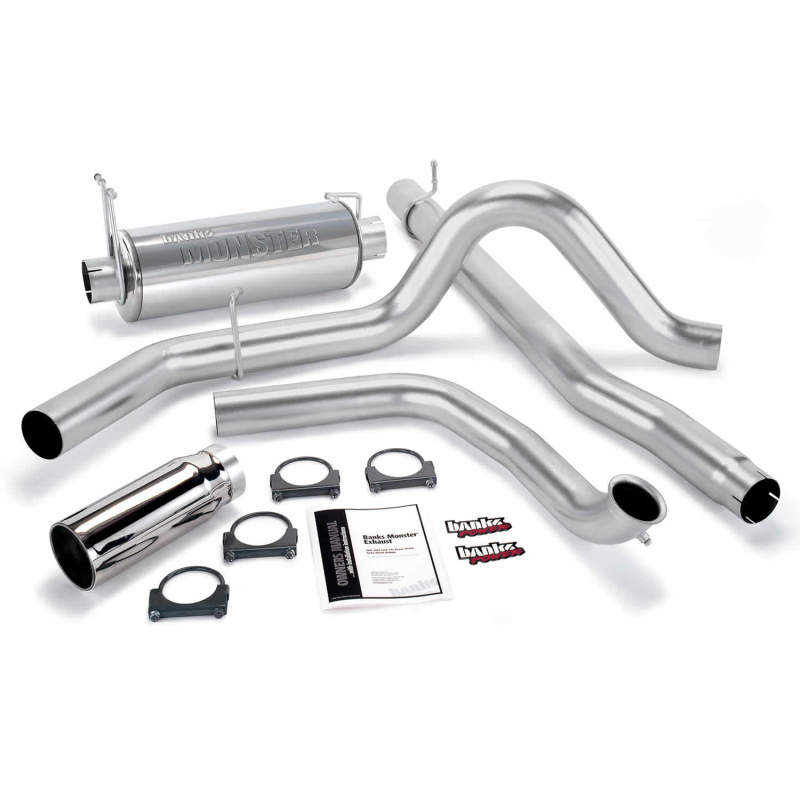 Banks Power 99-03 Ford 7.3L Monster Exhaust System - SS Single Exhaust w/ Chrome Tip
F-250 & F-350 PICKUPS and EXCURSIONS: Banks 4 inch Monster...
F-250 & F-350 PICKUPS and EXCURSIONS: Banks 4 inch Monster turbo-back stainless steel exhaust features streamlined turbine-outlet pipe, intermediate pipe and tailpipe all formed of stainless, heavy-wall tubing with constant-diameter bends to maximize flow, lower exhaust gas temps and slash backpressure up to 81%. (Available with or without a cast, large-bore Power Elbow housing). Designed to retain stock catalytic converter. The polished-stainless Monster muffler features a straight-through 4 inch diameter flow-path with a Banks-designed expansion chamber to dissipate the annoying mid-range exhaust drone that affects most straight-through designs. The muffler utilizes spun ceramic, very-high-temperature packing, more than doubles stock exhaust flow, and delivers an authoritative - but never intrusive - exhaust sound. And the 5 inch polished rolled-edge tip has an adjustable clamp for positioning on tailpipe. Get it in your choice of chrome-over stainless or high temp black! See this system with the black tip and no Power Elbow. (And to help keep it looking good, there's a 1/2 inch air gap to keep heat from tarnishing the finish). Important: Some vehicle configurations require an extension kit for proper fit. Pickups other than standard-cab long-bed or extended-cab short-bed require Exhaust Extension Kit. Extended Cab Long Bed #53517 required, Crew Cab Short Bed #53516 required, Crew Cab Long Bed #53518 required.
This Part Fits:
| Year | Make | Model | Submodel |
| --- | --- | --- | --- |
| 1999 | Ford | F-250 | Base |
| 1999 | Ford | F-250 | Lariat |
| 1999 | Ford | F-250 | XL |
| 1999 | Ford | F-250 | XLT |
| 1999-2003 | Ford | F-250 Super Duty | Lariat |
| 1999-2003 | Ford | F-250 Super Duty | XL |
| 1999-2003 | Ford | F-250 Super Duty | XLT |
| 2003 | Ford | F-350 Super Duty | King Ranch |
| 1999-2003 | Ford | F-350 Super Duty | Lariat |
| 1999-2003 | Ford | F-350 Super Duty | XL |
| 1999-2003 | Ford | F-350 Super Duty | XLT |